Chamber News
Stay informed and discover the latest happenings in Belleville, Ontario with the Belleville Chamber of Commerce News.
Expanded eligibility for COVID vaccine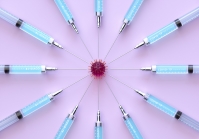 A stable and reliable increase in vaccine supply to Ontario is enabling the government to further expand eligibility to book a COVID-19 vaccine appointment throughout the week of May 10, 2021.
As of Tuesday, May 11, 2021 at 8:00 a.m., individuals with at-risk health conditions such as dementia, diabetes and sickle cell disease, as well as Group Two of people who cannot work from home including grocery store, restaurant and transportation workers will be eligible to book an appointment to receive the COVID-19 vaccine.
In addition, effective Thursday, May 13, 2021, at 8:00 a.m., individuals turning 40 and over in 2021 in non-hot spot communities will also be eligible to book an appointment to receive the COVID-19 vaccine at a mass immunization clinic. This builds upon the eligibility of those aged 18 and over in hot spot areas and is aligned with the rollout announced on May 2, 2021.
CLICK HERE FOR FULL MEDIA RELEASE FROM HPEPH, including details on eligibility.
Eligible individuals can schedule an appointment through the provincial booking system, or by calling 1-833-943-3900. You do not need to contact HPEPH.
Eligible individuals are encouraged to take advantage of open appointments at upcoming COVID-19 vaccination clinics in Belleville and Trenton. As eligibility is expected to expand to additional groups as early as next week, those who are currently eligible are encouraged to book as soon as possible to avoid unnecessary delays accessing vaccination. Currently, appointments are available in both Belleville and Trenton on:
Week of May 17

Week of May 24
Booking online is quick, easy, and convenient. Eligible individuals can see all available appointments and book online at Ontario.ca/bookvaccine at any time. If you are unable to book online, call the Provincial Vaccine Booking Line at 1-833-943-3900 between 8 a.m.- 8 p.m., Monday-Sunday. You will need your photo ID health card to book. As booking is managed by the province, please do not contact HPEPH to inquire about appointment booking.
Are you eligible, but don't have a booked vaccintation appointment?
Register for the Vaccine Standby List, and be on call for available appointments for the week's clinics. CLICK HERE for more information on the Standby List.
"With a stable and predictable supply of vaccines, Ontario's vaccine rollout continues to pick up speed, and we are on track to administer a first dose to 65 per cent of Ontario adults by the end of May," said Christine Elliott, Deputy Premier and Minister of Health. "As we continue to vaccinate even more Ontarians, we remain focused on protecting those most at risk, and I want to thank all of our frontline health care workers for their tireless work each day to protect the health and safety of Ontarians."
In addition, due to increased vaccine supply the province is adding high-risk health care workers, dialysis patients, and all First Nations, Inuit and Métis individuals to the list of those eligible to book their appointment to receive a second dose of the COVID-19 vaccine earlier than the extended four-month interval. These groups face a greater risk of contracting and suffering serious illness from COVID-19. Eligibility for booking will begin by the end of the week of May 10, 2021 and booking details will be provided in the coming days.
Ontario continues to expand eligibility and access at mass immunization clinics, hospital clinics and pharmacies, and continues to conduct employer-based and community-based pop-up clinics. The province is on track to have administered first doses to 65 per cent of Ontarians aged 18 and over by the end of May.
"Ontario is responding to an increase in vaccine supply by ramping up its rollout of COVID-19 vaccines and expanding eligibility," said Solicitor General Sylvia Jones. "While these latest steps forward are encouraging, we must continue to do all we can to save lives and reduce hospitalization by staying home and following public health measures."
Ontarians who are now eligible to book their vaccine appointment are asked to be patient, as it could take time to receive their vaccine. Public health units are responsible for managing and overseeing the distribution and administration of vaccines for their entire region, and public health units may have different vaccine administration rates based on local context.
QUICK FACTS:
As of May 9, 2021, at 8:00 p.m., over 6.2 million vaccine doses have been administered across the province, with over 92 per cent of Ontario residents aged 80 and over and 91 per cent of residents aged 75 to 79 having received at least one dose. More than 48 per cent of the population aged 18 and over have received at least one dose and over 393,000 Ontarians are fully immunized, including 95 per cent of long-term care residents.
Hastings Prince Edward Public Health continues to provide information on restrictions, vaccines, provide resources for businesses, and more.
CLICK here for the Dashboard on COVID-19 in Hastings Prince Edward Counties.