8 ways to optimize your Google My Business profile
Add polish to your business on Google with these tips.
1. Fill out your whole profile
Give Google as much information about your business as possible. Why? It makes it easier for Google to match your business to customer searches. In other words, it improves your search ranking.
As Google explains, "Local results favor the most relevant results for each search, and businesses with complete and accurate information are easier to match with the right searches."
That means you should fill out contact details, category, attributes, and more. Make sure to use the right keywords where possible.
Google determines local ranking based on three factors:
Relevance

: How well your listing matches a search

Distance

: How far your location is from the search or searcher

Prominence

: How well-known a business is (based on several other factors)
Using the right keywords will improve relevance. Not sure where to start? Try Google Trends.
For example, if you run a vintage clothing shop, search "vintage clothing" in your location. Look at related topics and terms people are using for keyword inspiration.
Social media impacts your SEO ranking, too. Find out how.
2. Standout with photos
Help people see what your business is all about.
When you create your Google My Business profile, you'll be able to add a logo and cover photo—much like you would on Facebook, Twitter, LinkedIn or Pinterest. Without these images, it will be harder for people to recognize your brand online.
Don't stop there. Show off your location, products, or handiwork by posting additional photos. If you run a restaurant, post pictures of your meals, menus, and dining room. Make sure they look appetizing, professional, and aren't low res. According to Google, businesses with photos receive 42% more requests for directions, and 35% more clicks through to their websites.
If you can, hire a professional photographer. It makes a difference. And it pays for itself in the end. Airbnb listings with photos taken by a professional photographer see a 40% increase in earnings, 24% more bookings, and 26% higher nightly price. If you can't afford a professional, read these photo-taking tips.
How to add photos to your Google My Business profile:
Sign in to Google My Business.

Open the location you'd like to manage.

Click Photos from the menu.

Choose the type of photo that you'd like to add.

Upload your photo from your computer or choose one you've already uploaded.
3. Post news, updates, and special offers
Information on your Google my Business profile such as you address, hours, and contact info, should always be accurate and up-to-date. Make sure to edit this information if it changes.
You can also create posts for your business to inform customers of updates, new products, offers, and events. Depending on your goal, these posts can keep your profile fresh, drive sales, and encourage visits to your physical or digital storefront.
How to create a post on Google:
Sign in to Google My Business and open the location you'd like to manage.

From the left hand menu, click Posts.

Choose the type of post you'd like to create from the options given.

Enter the relevant information in each field. Copy should include necessary details and be concise. Avoid commercial slang and too much punctuation (!!!!!).

Click Preview to double check formatting and spelling. If you need to make an edit, click the back arrow.
When you're ready, click Publish.
If the type of post you've chosen includes an option to include rich media, take advantage of the opportunity. According to Google, people engage more with posts that have photos, videos, or GIFs in them.
4. Add special features and attributes
Special features are available for Google business accounts, depending on the category you've chosen.
Here's a rundown of category-specific features available:
If you think your business is eligible for one of these features, but you don't see them, you may have chosen the wrong category. You can choose up to 10 categories for your business.
You can also add factual attributes to your profile to share more info your customers may care about. If you run a shop or restaurant, you may want to share that it's wheelchair accessible, offers free Wi-Fi, or outdoor seating. You can even share if your company is Woman-Led.
How to add or edit attributes:
From your account dashboard, click Info.
Find Add Attributes and select Edit. Search for the attribute you want to add, or scroll through all the available options for your business.
Click Apply.
5. Encourage customers to leave reviews
People trust other people more than they trust business. A good review can be the deciding factor that tips prospective customers in your favour. Reviews also improve your Google ranking.
The best time to ask for a review is after providing a great experience. Whether in store or online, consider sharing a card or e-receipt that asks for a review. Google offers businesses access to a free marketing kit with stickers, social posts, and printable posters.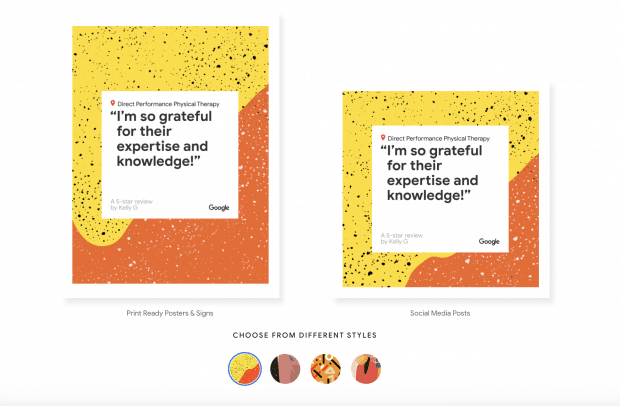 You can also create a custom shortlink to make leaving a review easy. It will look like: g.page/[yourcustomname].
How to get a custom URL for your Google My Business account:
From the dashboard, click Info and then Add short name.

Enter your short name. It can be up to 32 characters. You may need to come up with alternatives if the name you want is taken.

Click Apply.
When it's ready, your short name will show on your business profile.
6. Build trust by responding to reviews
Show current and prospective customers that you value their feedback by responding to reviews. According to a survey by Google and Ipsos Connect, businesses that respond to reviews are considered 1.7 times more trustworthy than those that don't.
Positive interactions build loyalty. Remember to respond in your brand voice, and stay respective and professional. That goes for negative reviews, too. Don't ignore them. Turn things around by listening and addressing the issues raised.
Be honest and be sure to offer an apology when it's warranted. If the matter is sensitive, ask them to send you a private message.
Make sure to answer questions, too. Anyone can respond to a customer question left on your Google My Business profile. Try your best to make sure you respond first. Show people that your business is active and reliable, and prevents the potential spread of misinformation.
Article credit: https://blog.hootsuite.com/google-my-business/
Note: Google has temporarily disabled review response and Q/A functionality for GMB locations due to COVID-19.