Coffee will be on at 8:30 am so please feel free to join us for all the sessions and take advantage of the opportunity to meet at least 39 other local organizations.
Below you'll find the full list of all the presenters joining you (alphabetical after sponsors/guests).
Please arrive at least 15 minutes before your scheduled hour.
I've imagined you might have a few questions, so here's a quick overview of what's going to happen on Thursday.
Getting to 250 Sidney St (the former Nortel Building)
The entrance of Sidney is located to the north of the building and there is lots of parking behind the building.

The entrance to the building is tucked in the corner by Flossies.

There is no open access to the building so we will have someone to greet you and escort you to registration and the networking area.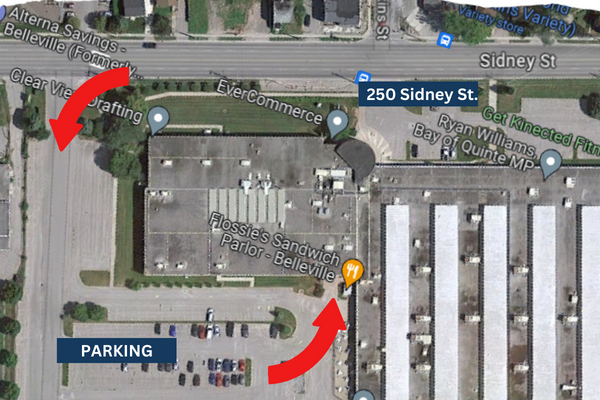 Registration
Lisa will meet you and check off that you've arrived. Each session is full at this point so if you are NOT going to be able to attend, please let us know as soon as possible in case we need to make any last minute adjustments for others.
Promotional Materials
If you're bringing promotional material, we'll have a few tables lining the networking/refreshment area you can use to put brochures/info. You might need at most 50 copies of anything (and this will be a shared space).
Presentations
Will be held on the second floor in the lecture theatre. We'll bring you upstairs at a quarter of an hour before your scheduled time.

We'll have you seated in the front row and call you to present in the order of appearance listed below.

The room is small enough we won't be using any audio equipment but we will be recording the sessions.

We are working on having them broadcast via Zoom as real time webinars.

Remember this is a room of friendly people and everyone wants to share. In order to respect the time limit, the audience will be cued to applause at the 3 minute mark.
Networking Breaks
Following each series of presentations, we'll break for approximately 20-30 minutes and convene in the networking area. Refreshments will be provided.
This is your chance to connect, exchange information or contact details.

LUNCH – 11:45-12:45
When you register, Lisa will provide you with a $3 coupon for Flossie's (located on site) you can use on Thursday if you'd like to stay for lunch. I've linked the menu to whet your appetite 😊
Not only is the food delicious, their newly renovated space is worth checking out!
Our thanks to the City of Belleville, Joe Shunock and the Small Business Centre for making this event possible.
SCHEDULE OF PRESENTERS
9:00 am (arrive by 8:45)

SECTOR

CUSTOMER

Small Business Centre

Tamara

Porter

Not-for-Profit

we can serve both

MicroAge Technology Solutions

Dale

Hoard

Tech Sector

B2B

Be Prepared

Emma

Travis

Specialized Service

we can serve both

COBS Bread

Andrew

Blackett

Hospitality/Tourism

we can serve both

Papa John's Pizza

Patti

MacDougall

Hospitality/Tourism

we can serve both

Quinte Film Alternative

Minny

Verburg

Not-for-Profit

we can serve both

Starboard Communications Ltd

Katie

Sherratt

Regulated Profession

B2B, B2C

The Richmond Retirement Residence

Susanne

Lachapelle

Specialized Service

B2C

Trent Valley Distributors

Chris

Auger

Retail Business

we can serve both

10:00 am (arrive by 9:45)

250 Sidney St.

Joe

Shunock

Regulated Profession

B2C

Allstate Insurance-Ryan Reckenberg (Agent)

Ryan

Reckenberg

Regulated Profession

we can serve both

Belleville General Hospital Foundation

Erin

Hewitson

Not-for-Profit

we can serve both

Ely T. Registered Acupuncturist

Ely

T

Health & Wellness

B2C

Grace Inn Shelter

Rob

Crisp

Not-for-Profit

we can serve both

LegalShield

Hudson

Phinney

Specialized Service

we can serve both

Serendipity Yoga

Janice

Duffy

Health & Wellness

we can serve both

SPAR Boxing

Ryan

Haydon

Retail Business

we can serve both

Specsavers Canada Inc

Edith & Celine

Karska & Pitre

Retail Business

B2C

The Waring House

Deborah

Rust

Hospitality/Tourism

we can serve both

Zone Athletics

Liz

Yntema

Specialized Service

we can serve both

11:00 am (arrive by 10:45)

Flossies

Kyle

Jones

Hospitality/Tourism

we can serve both

Belleville Senators

Alex

Siragusa

Hospitality/Tourism

we can serve both

Charlotte Properties

Scott

Rairdan

Specialized Service

we can serve both

Herringbone Interiors

Allie

Baxter

Specialized Service

B2C

KOOL KOATINGS INC

Bryan

Cribbett

Manufacturing

we can serve both

Mops Incorporated

Brett

Hayes

Specialized Service

we can serve both

Mr Print Canada Inc

Norman

Clifton

Manufacturing

B2B

Quinte Bowen Clinic

Shelagh

Binks

Health & Wellness

B2C

Starfish Synergies Inc

Theresa

Bailey

Specialized Service

B2B

Woodland North Lavender Farm

Bonnie

Moore

Agribusiness

we can serve both

LUNCH BREAK 11:45 - 12:45

1:00 pm (arrive by 12:45)

Babes of Quinte

Kay

Joly

Health & Wellness

we can serve both

Farmgate Gardens

Catherine

Milne

Agribusiness

we can serve both

From Shadows to SoulLight Counselling

Michele

Venema

Health & Wellness

B2C

Fully Promoted

Alicia

Armstrong

Specialized Service

B2B

Kasama Marketing Inc.

Andrew

MacDonald

Specialized Service

B2B

Nomad Cre8tive Inc.

Alyssa

Zwonok

Specialized Service

B2B

Paragon of Play

Jessica

Spice

Specialized Service

B2C

Stateside Tax Solutions

Stephanie

Stickler

Regulated Profession

we can serve both

Zenula Health

Abhi

Surabhi

Health & Wellness

we can serve both

Trenval

Barb

Wilson

Not-for-Profit

B2B