Chamber News
Stay informed and discover the latest happenings in Belleville, Ontario with the Belleville Chamber of Commerce News.
Canada Day celebration features Community Heroes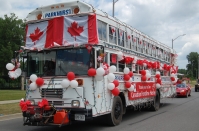 The Belleville Chamber of Commerce seized a silver lining in the transformation of the traditional Canada Day celebration at Zwick's Park to celebrate the frontline workers, patients and residents at the hospital and long-term care facilities with a drive-by of 20 community vehicles, decorated to acknowledge our country's birthday. CLICK HERE FOR PHOTO ALBUM of the procession.
The procession ended at Jane Forrester Park where government officials were there to acknowledge a few of the Community Heroes – essential workers who have been required to continue operations at a variety of businesses and organizations that were necessary to keep the economy moving, food on tables and roofs over heads and those who shifted production to make PPE shields and masks or stepped up as volunteers to sew masks, gowns and buttons on headbands.
The Chamber put the call out to the community to nominate those organizations and people and received a number of responses. The range spans from grocery stores to manufacturers, clinics and fitness organizations, transit and housing. In a ceremony at the Belleville sign, MP Neil Ellis, MPP Todd Smith and Mayor Mitch Panciuk provided certificates to those nominated as a way to thank them for their efforts and dedication. While not everyone was able to accept their certificate at the ceremony (which will be presented at their locations soon), the following lists those who were recognized.
Community Hero

Reason

Impacto Protective Products Inc.

mask development/production

Trent Valley Distributors

sanitization products and support for non-profit organizations

Sam Jannat, Michelle Capstick and Mike Harris

Dentistry by the Bay

continued offering emergency dental services, operating phone triage 18 hours/day

Sheena Woodward, Morgan Chmatil, Patricia Brooks, Robyn Dwyer, Victoria Poole

Truss Beverages

As a company we have donated 20k to Gleaners Food Bank, and another 10k to BICOP.

Pat Walsh, Jordan Thompson

Jeremy & Suzanne Braithwaite

Produced more than 10,000 face shields for QHC.

Enrichment Centre for Mental Health Pandemic Team

housed and fed vulnerable individuals in community

Stephen Forbes, Samantha Drake, JP Quintonilla

Steve Van de Hoef - Bridge St. United Church

Coordinates free lunch program during COVID

Lisa Morris, Joe Culp

Marcus Daley

Parmalat - Distribution centre night shift

Kara Hertendy

She sewed countless masks for frontline staff

Connie Carson

COVID19 sewing group founder and so much more!

Pegasus Cheer Athletics

Virtual training and wellness calls to families

Willowlee Sod Farms

Food sustainability initiative at Loyalist College

Belleville Transit team

Drivers and dispatch to keep transit available

GH Manufacturing Inc.

essential workers

International Truckload Services

essential workers

We Thrive Wellness Centre

transitioned to support clients virtually

Loyalist Martial Arts Academy

transitioned to support clients virtually

Best Western - Williams Hotels

housing Loyalist students/residence lockdown

Belleville Police Service

United Way Grocery delivery

Dewe's Independent Grocer

essential worker
Statements from some of those who were being acknowledged include:
Impacto Protective Products Inc.
At the start of the Covid-19 pandemic Impacto had started to see a significant drop In their sales. We were in a position were we had consider hour reductions and layoff. That weekend I was walking the dog around the plant and I walked into the cutting room where I had spent a lot of my summer days working. I developed a very simple design for a mask that I thought we might be able to sell to help protect people. I brought it into the office Monday, our production team perfected the design and by Wednesday we were shipping masks. I think this speaks to small manufacturers' ability to pivot and react quickly to changing market conditions. The mask project started as a way to help keep our workers working and the lights on at Impacto. As the orders started to flow in we were happy to donate some masks to local groups such as the hospital, food banks and the children's foundation.
SEE PHOTO ALBUM from presentations.
Willowlee Sod Farms donated time and equipment to create and maintain a large vegetable and fruit garden at Loyalist College's Belleville campus. Fresh produce from the garden will be used to stock the Loyalist Student Food Cupboard.
Jeremy and Suzanne Braithwaite have delivered more than 10,000 face shields to QHC since they began this initiative.
Truss Beverages is new to the community and as of January 2020 began hiring, we are now up to about 50 employees and this number continues to grow. As a company we have donated 20k to Gleaners Food Bank, and another 10k to BICOP. In addition to this paid our employees additional compensation for working through the peak of COVID. We also provide our employees and their family with masks to help eliminate the stress or pressure of going out in the community without a mask when they have been hard to obtain and will continue to do so.
Belleville Police Service for their help each week with the seniors grocery delivery program. I'm not sure what questions your nomination form asked, but I've attached a photo here. They take time each week to help deliver groceries to over 85 seniors in the Belleville area.
Marcus Daley from Parmalat (who was nominated anonymously) described how their evening shift at the distribution centre has been cut in half from 10 to 5, they meet with drivers from across the country each evening – never quite knowing what the risk that encounter might present, sanitizing everything people touch and examining every sneeze and cough that are regular occurrences when one works in 3 degree temperatures. There is no down time, vacation or personal days and sick time is a rarity.
A student of Loyalist Martial Arts Academy described how his instructors set up his Jiujitsu classes online so he and his dad could participate from home right from the beginning.
Dentistry by the Bay explained "we are extremely proud of the strides we have made in not only our community, but all the surrounding areas from Ottawa all the way to Brampton/Toronto during the COVID-19 pandemic. This pandemic affected everyone in this world and persevering the chaos and uncertainty we were able to accomplish the following":
Keep our doors OPEN

Had a team of volunteer workers who stepped up and worked the front lines since day 1

Source out, and invest in PPE to keep our staff and patients safe (professionally fitted N95's, gowns, surgical caps, gloves, face shields, etc)

Go above and beyond the set guidelines for health and safety by undergoing construction of the office to seal each room, installed HEPA filters in all ORs, installed plexiglass around reception, continued staff and patient education to be aware of the latest and highest standard of infection control via HR downloads and Public Health Ontario's online modules and continuing with our IPAC systems

Put in place an after hours team to triage and answer patient calls from 9am to midnight EVERY day of the week to accommodate the amount of patients who were calling us in pain and scared because their own dentists have closed down and wouldn't return their calls or instruct them on what to do (which resulted in clogging up BGH's already overwhelmed emergency department)

Provide reliable and safe dental service to hundreds of people who were in need, whether they were patients or not
The Quinte Community Sewing for Covid19 Group – founded by Connie Carson, championed by people like Kara Hertendy, Colleen Wellwood, Tawnya Smith, Lisa Ann Chatten and so many more.