Chamber News
Stay informed and discover the latest happenings in Belleville, Ontario with the Belleville Chamber of Commerce News.
Belleville identifies changes to City services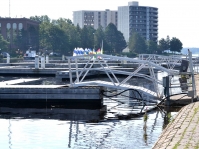 Following yesterday's announcement by the provincial government, the following changes to City services will take effect.
Meyers Pier and Victoria Harbour marinas will reopen effective May 29. While this new date is earlier than the anticipated June 2 reopening date, time is needed to allow for staff training and to ensure that COVID-19 restrictions are put in place. Please note the marinas will be unable to accept boats and/or boaters before this date. Recreation, Cultures and Community Services staff will be sending out correspondence to all boaters with details of the opening early next week.
Sports fields such as the Mary Ann Sills track, as well as the skateboard park at Riverside Park will be open. Please note team sports are not permitted at this time.
Splash pads will remain closed until mid-June in keeping with reopening plan.
Outdoor limits for social gatherings and organized public events will be expanded to five people, which will allow these amenities to be used for up to five people, including with members of different households. Please remember to practise physical distancing at all times and wear a mask where physical distancing is not possible.
These changes come in conjunction with the Province's Roadmap to Reopen. City staff will continue to work within the parameters of these new guidelines to open more facilities and services as permitted.
Residents are encouraged to stay tuned to the City's social media channels and website for more information.