Chamber News
Stay informed and discover the latest happenings in Belleville, Ontario with the Belleville Chamber of Commerce News.
Outlook on the food and beverage industry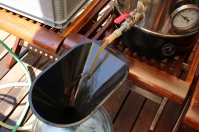 How do changes in the economy affect the Canadian food and beverage manufacturers?
Demand for food and beverage products is expected to see strong growth throughout 2021 and well into 2025. The pandemic, population growth and rising incomes are just a few of the drivers behind this increase in demand. This could mean interesting growth opportunities for Canadian Food and Beverage businesses.
Check out these reports from BDC's Food and beverage Industry Outlook for details on how changes in the economy affect Canadian food and beverage manufacturers, examine trends and challenges this industry will face.
What's the growth potential for the Canadian food and beverage processing industry?

Did you know? The food and beverage manufacturing output in Canada is expected to grow 15.6% by 2025.
Evolving food demand, labour shortages and the need to keep investing in new technologies will present both challenges and opportunities for entrepreneurs in the food and beverage sector.
Position your business for growth with BDC's economic insights for the food & beverage industry.
Fresh insights on this key sector of the Canadian economy are revealed in the report from BDC.
DOWNLOAD the report ... http://ow.ly/JpW750EMSA4