Chamber News
Stay informed and discover the latest happenings in Belleville, Ontario with the Belleville Chamber of Commerce News.
Nominate your community hero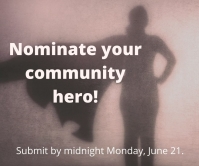 We're doing it again!!!
Last year, essential workers were recognized as community heroes... do you know someone who worked behind the scenes as an essential workers who helped keep shelves stocked, manufacturing lines running, emergency services available and food cooking, just to mention a few of the jobs people did while we've been in and out of lockdown the past 16 months...
Nominees will be formally recognized on Canada Day with acknowledgement with our MP Neil Ellis & MPP Todd Smith and Mayor Mitch Panciuk.
Visit the link below to nominate your community hero!
https://conta.cc/3vM8VZJ
During the ceremony held in 2020, MP Neil Ellis, MPP Todd Smith and Mayor Mitch Panciuk provided certificates to those nominated as a way to thank them for their efforts and dedication. CLICK here to see the report from last year's event, a list of nominees and the reason for the nomination as well as a photo album from the Canada Day procession.