Chamber News
Stay informed and discover the latest happenings in Belleville, Ontario with the Belleville Chamber of Commerce News.
5 eCommerce Trends to keep following in 2021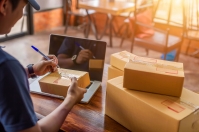 2021 has been a bit of a wild ride so far. As the dust continues to settle in the aftermath of 2020, it seems like there are some changes that are here to stay. While there are certainly things we'll all be happy to be rid of in due time, it's worth noting what will likely persist as part of the new normal, especially where it concerns your business.
In the latest blog post from one of the Chamber's partners Freightcom, they take a look at five trends in the eCommerce sphere that have really appeared to change the game through the first half of 2021:
The ease and accessibility of starting an online business

Advancements in online payment

How shipping and delivery have changed

and more!
If your business relies on eCommerce, or relies on others who do, you're definitely going to want to give this a read.
CLICK HERE TO READ FULL ARTICLE published June 7 by Freightcom
DID YOU KNOW? All Chamber members are eligible for exclusive discounted rates on shipping from a variety of top tier carriers including UPS, FedEx, DHL and more... CLICK here for more information