Chamber News
Stay informed and discover the latest happenings in Belleville, Ontario with the Belleville Chamber of Commerce News.
POSTED |
November 17, 2022
My Sister's Boutique now open in Quinte Mall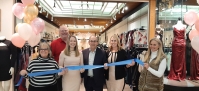 Sarah Routhier-Clark and Pam Taylor, co-owners, welcomed local dignitaries on Wednesday, Nov. 16 to the official grand opening and ribbon cutting at the new retail location in the Quinte Mall (former Lafferty's Crossings).
My Sister's Boutique is a family-owned dress rental boutique with an extensive selection of ready-to-wear dresses and accessories for women and girls. Why buy a gown to wear once?
They are excited to empower women to feel amazing for special events without the cost of buying expensive dresses.
When the two sister-in-laws started planning, they wanted to achieve three things:
Affordability - providing an option to combat the rising cost of formal wear. The dress is yours for five days. Wear the dress of your dreams, feel your best, and simply return to the store after your event. Rent, wear, return, repeat!

Sustainability - when you borrow (or buy) second-hand, you play a part in reducing emissions, saving resources and keeping clothes out of our landfill. Huge selection of evening wear, wedding dresses, cocktail and vacation wear, shoes and jewelry.

A customer-focused approach - customers are the centre of all of their business decisions. Enjoy a stress-free experience while you shop for your special event. No appointments are necessary.
Pam and Sarah announced that My Sister's Boutique will be assuming co-ordination of "The Prom Project'. The Prom Project offers gently-used formal wear for girls and boys to wear for their graduation or prom event. Clear out your closets, and donate your formal wear for students in Grades 8-12. More information to come soon.
Visit their website at https://mysistersboutique.ca/.
Like and follow them on https://www.facebook.com/mysistersboutiquebelleville and https://www.instagram.com/mysistersboutique.ca/