Chamber News
Stay informed and discover the latest happenings in Belleville, Ontario with the Belleville Chamber of Commerce News.
POSTED |
November 17, 2022
Meet Liz Yntema, owner of Pegasus Cheer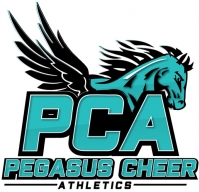 MEET OUR MEMBER SERIES: Liz Yntema from Pegasus Cheer Athletics
Liz is the co-founder of Pegasus Cheer Athletics, opening Quinte's only all-star cheerleading gym in 2014. The gym offers cheerleading, tumbling programs for all ages starting at 12 months old as well as parkour programs (tumbling, jumping, strength and agility for ages 6 – 12), stretch and conditioning classes. No matter your experience or abilities, they guarantee a spot in their gym.
You get that sense of family and pride as soon as you walk in. Written on the walls as you travel up the stairs, you can read individual milestones from their athletes. Ava mastered the front walkover in March 2018; Luke hit success with his round off in July 2022.
"Sports are for everyone. It doesn't matter what your age or abilities are" Liz explains. "Everyone has the opportunity to fall in love with one of the sports at our facility, feel at home in the gym and be active."
Born and raised in the area, opening a business in Belleville was an easy decision for Liz. The gym operates under 4 core values:
Be Kind
Be Honest
Be Responsible
Be Respectful
Liz continued to describe the success of the development of the programming. "The staff has grown with us. We provide in-house training and recruitment through our parents and athletes. They truly are 'Rockstars'".
She elaborated saying "We use the hashtag #leadersoftomorrow, because that is what we are building – Our 'Coaches in Training" experience a leadership program that includes building of a resume and interview skills, participation in meetings and training. They even get to participate in a mini-conference".
Pegasus is a family that helps young athletes grow into their confidence. With both competitive and non-competitive programming, everyone has a place here. The sport of cheer combines the best of dance, tumbling and weight lifting with endurance, incredible team work and communication.
PA Day and summer camps are taught in both French and English. They also offer clinics, host birthday parties, and find creative ways of giving back of helping. "I wanted to open a business that would give back to the amazing community that impacted my life", Liz stated.
COVID changed everything, and Pegasus Cheer Athletics quickly figured out how to adapt, and continue to do so. Over the past three years, they've offered a range of in-person and virtual classes to continue connecting with their athletes and families during the pandemic and lockdowns.
Since March 2020, Pegasus Cheer Athletics has offered a recreational cheerleading class that was taught completely in American Sign Language, PA day and summer camps taught in both English and French, and introduced an Elite Open cheerleading team for athletes ages 15+.
They even offer an adult cheer program. Liz said "It is 1 ½ hours a week, it's laid back and we work with the capabilities you have. In four months, you will have learned a routine."
"Our team is passionate about providing a 'home away from home' for our families. Whether you're a parent or an athlete, we want you to feel at home and part of our community," says Yntema. "We are incredibly proud to have offered this space in the Bay of Quinte region for families for the past 9 seasons. We cannot wait to see what the future holds!"
Find Pegasus Cheer at 1989 Old Highway 2, Belleville, just west of Wallbridge Loyalist Road, and online at https://pegasuscheer.com/.
Like and follow on facebook, twitter and instagram.
Pegasus Cheer has been a proud member of the Belleville Chamber since 2015.
SPECIAL OFFER:
Get 4 weeks of classes (cheerleading, tumbling or parkour) for $49.
New athletes join the first week of every month.
Sign up at https://joinpegasuscheer.com/