Chamber News
Stay informed and discover the latest happenings in Belleville, Ontario with the Belleville Chamber of Commerce News.
POSTED |
February 23, 2022
In Conversation with MPP Smith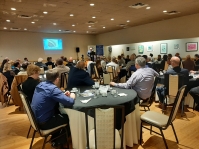 During a recent breakfast meeting with Chamber members, Bay of Quinte MPP Todd Smith stated that the province had built "tremendous momentum" before the pandemic hit, and now looks to build on the key areas it was supporting prior to being "knocked off track".
He noted that the pandemic exposed a number of weaknesses including long term and hospital care. He believes that this decade could very well be come the "Roaring 2020's", and the provincial government is working to put the pieces into place to make that happen.
READ the story on Inquinte.ca.
CLICK HERE to view the presentation from MPP Smith.