Chamber News
Stay informed and discover the latest happenings in Belleville, Ontario with the Belleville Chamber of Commerce News.
POSTED |
February 16, 2021
Hire a co-op student and access funding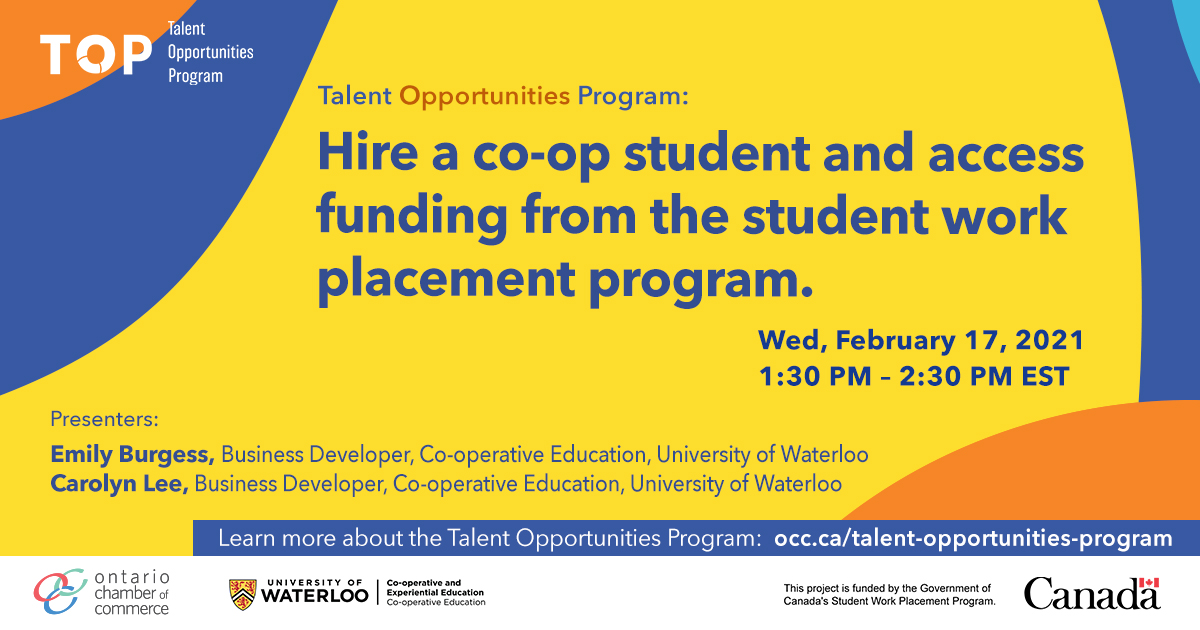 Join the Ontario Chamber of Commerce and the University of Waterloo on Wednesday, February 17 from 1:30 - 2:30pm ET for a webinar to learn how your company can tap into post-secondary talent and apply for a valuable wage subsidy. Click here to register.
The Talent Opportunities Program (TOP) is an initiative of the Ontario Chamber of Commerce designed to help employers located anywhere in Canada hire college and university students on work placements.
The University of Waterloo is home to the world's largest co-op program, mobilizing 25,000+ of Canada's brightest university students from over 120 co-op programs each year (8,000+ each term) into the workforce. They are the go-to experts when it comes to learning how to attract, recruit and retain the next generation of talent. Waterloo students are drawn to innovation, new experiences and making a difference. For over 60 years, employers from around the corner and around the world have been working with Waterloo's dedicated staff team to find the right talent for their business.
Agenda
Overview of TOP student work placement program wage subsidy

Strategies for attracting, recruiting and hiring the right co-op students for your organization

Funding process and tips for employers

Q & A
EVENT DETAILS
Date: Wednesday, February 17, 2021
Time: 1:30 - 2:30 pm ET (A link to the Zoom webinar will be sent by email around noon on the day of the event).