Chamber News
Stay informed and discover the latest happenings in Belleville, Ontario with the Belleville Chamber of Commerce News.
POSTED |
February 16, 2021
Working from home?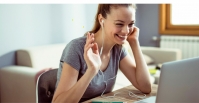 5 Ways to Make Sure Your Space Looks Professional on a Conference Call
Not all of us have a dedicated space inside our home for work, and our office is often our dining room table. So, how do you make it look clean, tidy and professional? We've rounded up five top tips to help you keep your background in the background so that you're what stands out.
ONE : Clutter Free
In our pre-Zoom call life, what seemed like clean surroundings can easily be a distraction for others on a video call. Try to see your space through the eyes of a colleague and consider whether you're up for questions about the collage from your kids, or your latest sun vacation photos with friends. Items that are easy to remove from walls can simply be taken down for the duration of your call. And don't forget about what might be on your bookcase if you'd rather not get into a debate over the literary merits of the Twilight trilogy or delve into your obsession with the birds of South America.
TWO : Clean Lines
Things that look layered and rich with texture, colour and pattern in person can often appear busy on camera. Intricate wallpapers, mixed textiles or contrasting colours can create a buzz on screen, which can be distracting. That goes for wardrobe choices as well. Consider turning your workstation around for a cleaner backdrop and think about what outfit is best suited for a big presentation. Solid colours will render crisp and clear, and make you look on top of your game when walking senior management through last quarter's results.
THREE : Appropriate Touches
If your work culture is friendly (we hope it is), there's nothing wrong with showing off a few personal touches on your call. But remember, some things are simply not work appropriate. So just like keeping your space clutter free so as not to distract your colleagues, consider rehoming your collection of porcelain dolls and your life-sized Thor cut-out to a spot in your home that the camera can't see. Pets can also steal the show, but most of the time, they're a welcome interruption (and help bring a little cheerfulness).
FOUR : Light Right
Natural light coming in from behind the camera will offer you the most flattering light, while light coming from behind you will make the video image appear "blown out" and you'll be difficult to see if it's too bright. Don't have a window to add a little something extra to your lighting set-up? Consider a ring light, or a video light. With multiple settings, they can offer that something extra you need to bring you and your ideas, out of the shadows.
FIVE : Tech Tools
With the rise of video conferencing, came the rise of digital backgrounds, which are great if making your space palatable is just not possible. Depending on the personality of your workplace, you can choose something fun, think tropical beach or the Sunset Strip, or something cleaner like a solid background. Some companies might even have a branded background, which is great for calls with vendors or partners. Also, think about getting an external web camera. It allows for greater flexibility when it comes to where you set up for your picture-perfect framing.
READ this article and more on staples.ca
DID YOU KNOW?
That you can claim expenses for your work space at home on your 2020 tax return.
READ MORE