Chamber News
Stay informed and discover the latest happenings in Belleville, Ontario with the Belleville Chamber of Commerce News.
Taxi and Rideshare Survey Online Now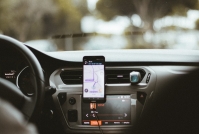 As the use of ridesharing or Transportation Network Companies (TNCs) gain in popularity, the City is now reviewing the current Taxi Licensing Bylaw (2010-17).
Bylaw 2010-17 defines a taxicab as a "motor vehicle having normal seating capacity of not more than six persons plus the driver used for hire for the convenience of passengers wholly within the City of Belleville."
By this definition, motor vehicles used by ridesharing services would also be included so the bylaw would apply to them. However, there are many aspects of the current bylaw that do not apply to ridesharing services, making it difficult to apply the provisions of the bylaw to this type of vehicle-for-hire service.
It is clear that the current bylaw which came into effect in 2010 requires modernization. However in order to do this, review and consultation with residents, the taxi industry and TNCs need to be undertaken to ensure the development of a fair, competitive market for licensing these industries.
The Taxi and Rideshare Survey is online now and those interested in having their say are asked to complete the survey before the June 30 deadline.