Chamber News
Stay informed and discover the latest happenings in Belleville, Ontario with the Belleville Chamber of Commerce News.
Stay-at-home order extended with toughter restrictions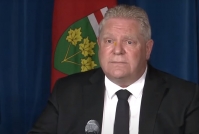 Premier Doug Ford announced that effective Saturday, April 17, the province will be shut down for an additional two weeks, including the tightening of border crossings.
Tougher restrictions are in place, with outdoor gatherings prohibited except for members of the same household, although if someone lives alone, they can join one household.
All non-essential workplaces in the construction sector.
Retail stores weher in-store shopping is permitted will be reduced to 25% capacity. This includes grocery and convenience stores, and pharmacies.
If you can work remotely, you must do so.
As of Monday, April 19, religious services, funerals and weddings are also reduced to a maximum of 10 people indoors or outdoors. Social gatherings, like receptions are prohibited.
In efforts to stop the spread of COVID-19, police, bylaw officers and health officials will have increased authority to require any individual to provide their home address and their purpose for not being at their residence.
Curbside pickup and delivery will continue to be available.
The City of Belleville wishes to inform residents that the City playgrounds which were closed in response to Premier Ford's announcement on Friday afternoon have now been reopened. On Saturday the provincial government amended their previous statement, allowing playground facilities to reopen.

The outdoor spaces play a valuable role in the wellbeing of Belleville residents. Parents are asked to ensure children following COVID-19 safety protocols while enjoying the playground facilities.