Chamber News
Stay informed and discover the latest happenings in Belleville, Ontario with the Belleville Chamber of Commerce News.
Right Fit Therapy celebrates grand opening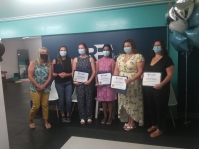 Right Fit Therapy Now Open and helping you on your journey to physical wellbeing.
Right Fit Therapy celebrated their grand opening on Wednesday, August 18th at their location at 300 Maitland Drive. Although they have been able to service their clients during the last few months, they were excited to finally cut the ribbon with local dignitaries, family and friends.
Belleville Mayor Panciuk and Councillor Thompson were on hand for the celebration, as well as MPP Daryl Kramp and Belleville Chamber CEO, Jill Raycroft.
Right Fit Therapy was born within the walls of "Right Fit". A gym space that has been a part of the Belleville community for 13 years now. Their goal in creating "Right Fit Therapy", was to have a clinical space within a gym already dedicated to helping others move well, and live as better functioning humans.
Hilary Wells, (a Registered Massage Therapist saw an opportunity to create a clinic. The clinical space is dedicated to housing a collection of healthcare practitioners with the same aspirations for the community. Each Practitioner is passionate in their craft, and dedicated to helping others for the greater good of the community.
They are:
Kavita Gandhalikar, Registered Physiotherapist and owner of Healing Hands Physiotherapy
Whitney Black, Registered Massage Therapist and Owner of On Point Massage Therapy
Dr. Amy Dobbie, Naturopathic Medicine
Kevin Kozai, Athletic Therapist of K2 Elite Therapy and Performance
Hilary Wells, Registered Massage Therapist of Hilary Wells, RMT, Massage and Mobility
The clinic stands by their belief that human function can be improved through rehabilitation, movement, and education. Through hands on manual therapy, maintenance by way of mobility and flexibility, as well as by optimizing prevention through strength and stability.
Right Fit Therapy are excited, and look forward to the opportunity to move with, lead, and encourage the community on their journey to better physical wellness in their everyday lives.
Check out rightfittraining.com/rf-therapy. follow them on Facebook, Instagram, or call 613.779-7799.