Chamber News
Stay informed and discover the latest happenings in Belleville, Ontario with the Belleville Chamber of Commerce News.
Quinte Waste Solutions is making it work during the COVID-19 crisis
During the COVID19 pandemic, many businesses, non/not for profits and charities have had to close their doors. Considered non-essential means, by law, they are required to close.
One sector consid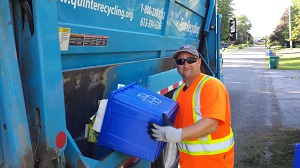 ered essential is waste collection/management. This includes your blue box recycling program.
At Quinte Waste Solutions Material Recovery Facility in Trenton, staff are still working diligently to keep recyclable materials from becoming litter and ending up in local water sources.
From drivers, to depot staff to sort staff, Quinte Waste Solutions are processing about 130,000 pounds a day. Within those materials are the unacceptable and dangerous materials like medical waste.
Drivers stop at 900 homes a day handling on average two blue boxes of materials. Blue boxes are overflowing as many people are now creating their waste at home instead of at work, at school, weekend activities and running errands.
The depot attendant ensures the facility is clean. He collects recycling materials that blow up the street and manages the public depot. He keeps on top of residents bringing materials in and educates the them on what's accepted and what's not.
Sort staff are then left to manage the materials that enter the facility. They stand for 8 hours a day sorting by hand the 130,000 pounds of material. This means that 130,000 pounds is touched by hand after it's been in your house, on the curb, in the truck and ultimately on the tipping floor of our facility where it pushed up the line on a conveyor belt.
The collectors and sorters are doing their best to ensure your recycling is collected and processed while remaining safe through the entire process. Please be diligent when placing items in your blue box. Collectors and sorters wear proper protective equipment on their hands, but every item is touched by a staff member. Let's do our part and stop the spread.
15,000 metric tonnes = 33,069,339 pounds (130,000 per collection day)