Chamber News
Stay informed and discover the latest happenings in Belleville, Ontario with the Belleville Chamber of Commerce News.
Quiet ceremony honours local community heroes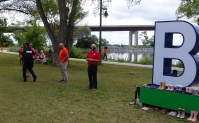 In a quite ceremony on July 1st, local heroes, nominated by a community member, were recognized for their efforts throughout the pandemic.
Belleville Chamber of Commerce CEO, Jill Raycroft said "We had a number of names brought forward by the community, so today, we are presenting them with a certificates from the Mayor, the MPP and the MP."
The three local dignitaries stood beside the iconic Belleville sign, laden with shoes in memory of Indigenous children who lie in unmarked graves at Canadian residential schools.
Before the Community Heroes presentation, a group from the Mohawks of the Bay of Quinte, Voices for Change, shared their songs and stories. Raycroft said "We are grateful they've chosen the park today and we were able to participate as observers to their ceremony".
Following the presentation, a procession of vehicles, which included fire trucks, police and EMS, drove by several local long term care homes and Belleville General Hospital in honour of the hard work of our health care workers and resilience of our seniors.
Groups and individuals recognized as Community Heroes are:
Belleville Police Service (assisting with United Way Grocery delivery)
Best Western (housing Loyalist students/residence lockdown)
Connie Carson (organizing groups to support anyone who needs help within the community)
Eurest Services (Cleaning support for Vaccination Clinic)
Holiday Inn Express Belleville (Caring for international students in quarantine)
ITS (supporting essential deliveries throughout the pandemic)
Larry Burnett (Building first responder shelters)
Mark Kirkpatrick (College-wide pandemic planning)
Paladin Security (Greeted/supported guests at Vaccination Clinic)
Plan A Kingston & Quinte (leading the Plan A team Lead in LTC during COVID)
Maxine Holland, Preferred Personal Care (Supporting LTC in the GTA in the first wave & providing ongoing homecare)
Heather O'Brien, QHC Nurse (Heather is a dedicated Nurse at QHC)
Willowlee Sod Farm (Food sustainability initiative at Loyalist College)