Chamber News
Stay informed and discover the latest happenings in Belleville, Ontario with the Belleville Chamber of Commerce News.
Province pauses reopening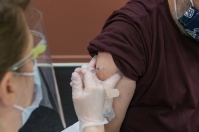 Vaccinations are now mandated in high-risk settings and in those individuals not vaccinated, rapid antigen testing will be required. For now, this is focused on health and education sectors but it's not hard to imagine this may expand.
The provincial government, in consultation with the Chief Medical Officer of Health, is taking action to increase protection for our most vulnerable, including frail seniors, immunocompromised individuals and young children who are not yet eligible for vaccination. This includes making COVID-19 vaccination policies mandatory in high-risk settings, pausing the province's exit from the Roadmap to Reopen and providing third doses of the COVID-19 vaccine to vulnerable populations. The government is also expanding eligibility for the Pfizer vaccine to children born in 2009 or earlier.
The Chief Medical Officer of Health has issued a directive mandating hospitals and home and community care service providers to have a COVID-19 vaccination policy for employees, staff, contractors, students and volunteers, and for ambulance services to have a COVID-19 vaccination policy for paramedics. The vaccination policy must be effective no later than September 7, 2021, and at a minimum will require these individuals to provide proof of one of three things:
Full vaccination against COVID-19;
A medical reason for not being vaccinated against COVID-19; or
Completion of a COVID-19 vaccination educational session.
Individuals who do not provide proof of full vaccination against COVID-19 will be required to undertake regular antigen testing. These settings will be required to track and report on the implementation of their policies to the provincial government. This is similar to the vaccination policy requirements currently in place for long-term care homes.
To support the return to school plan, the Ministry of Education intends to introduce a vaccination disclosure policy for all publicly-funded school board employees, and staff in private schools as well as for all staff in licensed child care settings for the 2021-22 school year, with rapid antigen testing requirements for staff who are not immunized against COVID-19.
In addition, to further support a safer return to school by ensuring more children and youth can benefit from the protection offered by the vaccine, the province will extend eligibility to the Pfizer vaccine to children born in 2009. Starting on Wednesday, All children turning 12 years old before the end of 2021 will be eligible to receive their first dose of COVID-19 vaccine and can book their appointment through the provincial booking system, through their public health unit, or pharmacies, or can walk-in to vaccination clinics.
The Belleville and neighbouring Chambers of Commerce, the Ontario Chamber of Commerce in partnership with the Ontario and Canadian governments, have launched the COVID-19 Rapid Screening Initiative. Through this initiative, local chambers of commerce will roll out free rapid tests for small and medium-sized businesses. READ MORE about this program.
READ FULL NEWS RELEASE FROM PROVINCE for more details.