Chamber News
Stay informed and discover the latest happenings in Belleville, Ontario with the Belleville Chamber of Commerce News.
Province implements emergency brake shutdown
The Ontario government, in consultation with the Chief Medical Officer of Health and other health experts, is imposing a provincewide emergency brake as a result of an alarming surge in case numbers and COVID-19 hospitalizations across the province.
The provincewide emergency brake will be effective Saturday, April 3, 2021, at 12:01 a.m. and the government intends to keep this in place for at least four weeks.
General public health and workplace safety measures

For businesses, organizations and facilities
Refer to O. Reg. 82/20 for details.
Public health advice, recommendations and instructions
Businesses or organizations must comply with the advice, recommendations and instructions of public health officials. This includes advice, recommendations or instructions on:
physical distancing
cleaning or disinfecting
working remotely
CLICK HERE for more information on businesses that can open and the relevant restrictions imposed by the province.
Businesses that are not permitted to open include:
Amusement parks, water parks
Bathhouses and sex clubs
Casinos, bingo halls and gaming establishments
Concert venues, theatres and cinemas (includes drive in or drive through events)
Horse racing (open for training only, no races or spectators)
Motorsports
Museums and cultural amenities
Personal care services
Tour and guide services
Zoos and aquariums (permitted to operate for the care of animals)
In Hastings Prince Edward, the local public health unit has implemented a Class 22 Order that include:
All short term accommodations are closed, including bookings made prior to March 30, 2021.
All staff at retail businesses and food and drink establishments must wear appropriate personal protective equipment if providing services within 2 metres of another person who is not wearing a mask or face covering and are not separated by an impermeable barrier (e.g., plexiglass). Protection of the eyes, nose, and mouth is required (i.e., goggles or face shields and surgical or procedural masks). This includes personal service settings and eating establishments where patrons temporarily remove their mask in order to receive services.
The following diagram was provided by HPEPH, and demonstrates the increase in reported cases, month over month.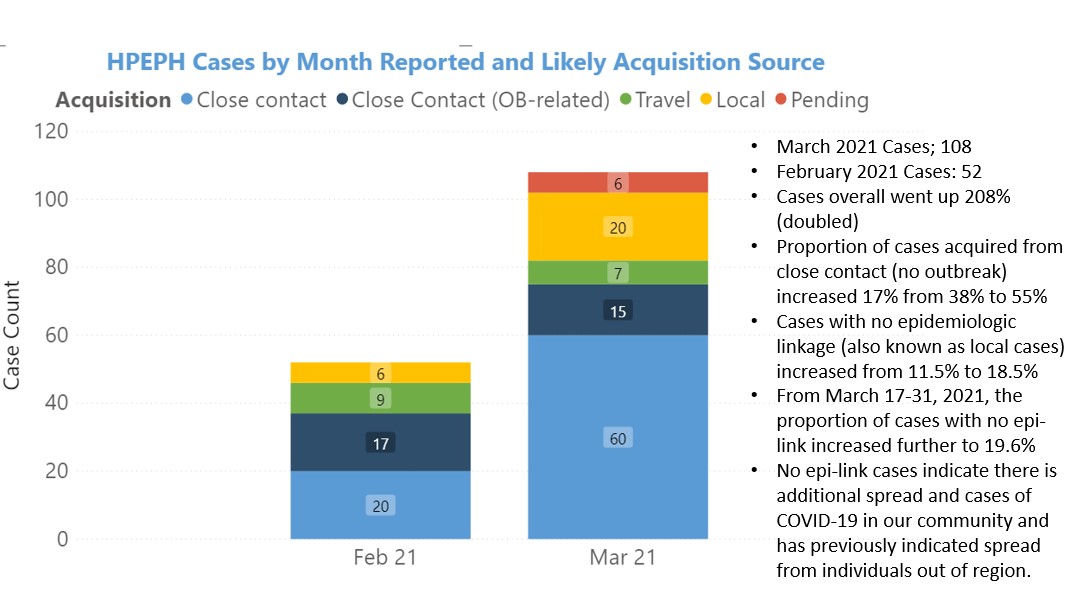 CLICK HERE for the report from Hastings Prince Edward Public Health. It demonstrates the steep incline in the incident rate curve, and that this region was quickly approaching gray zone classification.