Chamber News
Proposed Changes to Summer Festivities Announced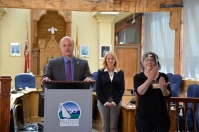 Today, Mayor Mitch Panciuk and Jill Raycroft, CEO Belleville Chamber of Commerce, were pleased to announce that although COVID-19 restrictions have altered the manner in which festivities can be held, the City of Belleville has found alternate approaches to celebrate Canada Day and the City's Waterfront and Multicultural Festival. These suggested changes will be brought to City Council for approval at their upcoming meeting.
Belleville Canada Day Family Parade – July 1
The event planned for the park will now be a celebration parade of National pride with a route designed to pay tribute to our healthcare "angels" and the seniors in long-term care facilities who built our country and have been the hardest hit by the pandemic.
The Waterfront & Multicultural Festival will be replaced by two separate activities that will take advantage of currently compliant services and leverage the existing resources in our community. This July festival is known for a few things but at its core, it's been about food and music.
1) Curbside Culture … A Passport Food Adventure Around The World
July 10 to 12 (would have been Waterfront Festival Weekend)
Families will use a passport to guide them to locations around the City where they will enjoy "take-out" cuisine from many different countries. At this phase of our planning, the passport will feature selected international restaurants that are able to offer curbside pickup though we are discussing ways to expand this through the summer. For now, we hope to launch the passport over the traditional Waterfront weekend.
2) The Lions Club Concerts (On The Bay)
YourTV has agreed to partner with the Lions Club to film the entertainment scheduled for this summer's Concert in the Park series as soon as that is permitted under gathering guidelines. Group performances will be filmed in a private location and broadcast on Wednesday & Sunday evenings from 6-8 p.m. beginning as soon as gathering rates rise and time allows for the work to be done in a safe and professional manner. The concerts will be simulcast on the Belleville Chamber of Commerce YouTube channel at the same time, allowing non-Cogeco customers to also enjoy the entertainment.
"This week has been one that I truly welcome because, finally, we have been able to give our residents and businesses some positive news about facilities we are re-opening. This is only possible because of the excellent job that they have done," said Mayor Mitch Panciuk. "This morning's proposal from the Chamber is regarding the events they are contracted to provide for our community. I have committed to them that regardless of the terms of our contract, we will work with them to ensure they feel safe with any events they deliver in 2020. This is only reasonable considering how much work they put in to making them happen. We are grateful for our partnership in the past and for the bright future ahead of us."
Jill Raycroft, CEO, Belleville Chamber of Commerce added, "The Chamber is committed to providing a Plan B for these summer festivities. They will take on a new feel as we capture the essence of each event and we will continue to work hard together to make these celebrations happen."