Chamber News
Stay informed and discover the latest happenings in Belleville, Ontario with the Belleville Chamber of Commerce News.
POSTED |
February 11, 2022
Meet Chris Auger in Trent Valley Distributor's New Location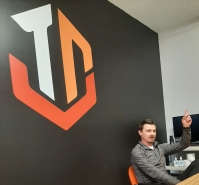 MEET OUR MEMBER SERIES:
Chris Auger, Trent Valley Distributors
Belleville Chamber CEO Jill Raycroft, and President Anthony Callaghan met with Christopher Auger, owner of Trent Valley Distributors at their new location at 286 Maitland Drive in Belleville. General Manager, Mike Harris also joined the Chamber crew for the tour.
Auger's story with Trent Valley Distributors started more than two years ago. Chris understood and respected the fact that TVD had been an integral part of the local business community, servicing the hospitality sector with quality products and service for 40+ years. But he had a vision for the business to be bigger and better.
Since taking over the business, Auger has fostered a supportive environment and culture within the TVD family. He has also had the benefit of having his dad, Mitch Auger, a founding partner, co-owner, and board member of locally owned Impacto Protective Products, share his advice and expertise. Chris is proud to be continuing the legacy of TVD as a family-run business, ready to take the next steps to expanding to meet the needs of larger client bases in and outside the Quinte region.
The new location at 286 Maitland Drive boasts 7000 sq. feet of warehouse capacity. One of the biggest differences will be the "retail range of products that are of the best commercial grade," said Auger. If you are a home chef, for instance, looking for a quality utensil or piece of cookware, TVD will now supply the same items found in high-end professional kitchens at wholesale prices.
But TVD is not just about restaurant and home kitchen equipment. Now, with their new location, TVD has tripled their ability to warehouse, stock and supply new and expanded lines of Canadian-made products for janitorial and sanitation supplies.
They are sourcing Canadian-made products in the janitorial and sanitation markets to expand our TVD labeled product lines of chemicals and supplies.
"While we're justifiably proud of the history, legacy and loyal client base that TVD has developed until now," says Auger, "we're now situated and equipped to take it to the next level of professional service for existing and expanding markets. We're excited about this place and we're excited about the future for TVD."
In June 2020, TVD was one of only sixty-two businesses across Canada to receive a $10,000 award from the Canadian Chamber of Commerce, which allowed them to further develop their sanitation division.
Trent Valley Distributors has been a valued Chamber member since 1990.
Weekday hours are 9 a.m. to 5 p.m., Monday through Friday and weekend hours will be arranged for commercial clients as needed and pre-arranged.
Contact TVD at 613-966-5279 or visit their website www.trentvalleydistributors.com