Chamber News
Stay informed and discover the latest happenings in Belleville, Ontario with the Belleville Chamber of Commerce News.
POSTED |
March 9, 2023 - Dr. Aruna Alexander
Karen Poste - Woman of Distinction
A tribute on International Women's Day 2023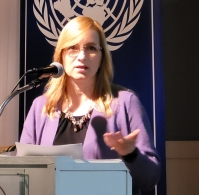 Karen Poste, a longtime member of the Belleville Chamber of Commerce Board of Directors, received the 'Woman of Distinction' award from the United Nations Association in Canada Quinte Branch, at the International Women's Day event held Wednesday evening, March 8th, 2023.
This is the speech delivered by Dr. Aruna Alexander, in tribute to Karen.
The United Nations Association in Canada, Quinte Branch, is delighted to honour Karen Poste with an award that recognizes her collaborative leadership and excellent service to the Belleville community.
After graduating top of her class in Business Administration from St. Lawrence College in Kingston, Karen was hired to work in municipal government, a career she has enjoyed for the last 34 years. Initially employed by Thurlow Township in 1989, Karen continued to work in their office for nine years as a junior land use planner. Then, with the amalgamation of Belleville and Thurlow in 1998, Karen found herself working for the City of Belleville.
Belleville was very fortunate, indeed, to have Karen join their team because she brought to her new job, as Manager of Economic and Strategic Development, nine years of invaluable experience in by-law enforcement, emergency planning, budgeting, and project management. In her new position, Karen's main goals and objectives were business retention and business attraction. In addition she was to become actively involved in a wide variety of community-building initiatives.
UNAC-QUINTE BRANCH first became acutely aware of her talents for retaining and attracting business when her department partnered with us for two successful events. The first event in which Karen became involved was entitled Diversity in the
Workplace. The second was a full day engaged in working with local Human Resource Managers and their senior staff.
Karen is an exceptionally fine, collaborative leader. When I first informed Karen that she had been chosen for public recognition at our UNAC – Quinte event on International Women's Day, Karen's immediate response was
"I am a bit uncomfortable with this because everything I do is with partners; it's never just me."
Her collaborative spirit shines through in her own account of her first years working for the Township of Thurlow:
"I started in the Township of Thurlow, then hired as
a Junior land use planner shortly after graduation – lots of amazing people who were so kind and patient with me, Reeves and council members that were so supportive, and my boss, Gary King, who allowed me to try whatever work I wanted and answered every question I asked. Those Thurlow
folks were so accepting of a little Thurlow girl who was so eager to do a good job."

During her experience working as Belleville's Manager of Economic Development under Steve Hyndman, the City's first Director of Development Services, Karen was convinced of the importance of collaborative teamwork. She writes, "Economic Development is a team sport if it is being played properly."
As both a leader and a team player Karen, acknowledges being blessed to be able to work with many different people who feel the same way, most recently with Kimberly O'Brien Mumby and Elisha Purchase. Karen writes,
"They have been the team I have relied on – the team that kept me sane during some very difficult times".
Over the years, Karen has been able to accomplish so much for our community not only because of her understanding of the vital importance of teamwork, but also because she has great interpersonal skills, an ability to handle visible -and invisible- pressures with calmness, an active commitment to creating a welcoming and inclusive community, and a generosity of spirit towards her co-workers. She openly recognizes and expresses her gratitude and to those with whom she works. She writes,
"Working with the Quinte Economic Development Commission since 1999 was one of the best moves Belleville ever made: Chris, Rachel, Mike, and Vicki are the very best at what they do. They have brought a lot of investment leads to Belleville, working with us to retain many investments here".
Here are just a few of the investments and projects on which Karen has had the pleasure of working for the benefit of the Belleville community:
Bioniche Life Sciences, Kellogg's, Vision Transportation, Finaire, Shorelines Casino, JBS Foods,
Redpath Sugar, and Walmart.
She has also been involved with expansions such as
Electrolab, Minimax, Procter and Gamble, Autosystems, Fed-ex, Bardon Supplies, and many others.
Other vital projects in which she participated are:
-physician recruitment --- which attracted 43 doctors;
-Phase 1 expansion and servicing of the North East Industrial Park AND the subsequent sale of all this land.
-Pop-ups on the Bay; Quintelicious – Belleville edition.
Belleville Trolley;
- Covid Business Retention initiatives; Development of an
E-Commerce support program during Covid.
-Contributions on the Chamber of Commerce Board of
Directors for more than 20 years;
Karen strongly supports and praises businesses and not-for-profit organizations which have contributed so much to Belleville's success. She also writes of the critically important positive relationships that must be established both within local councils and between local government and businesses. She writes,
"Council's leadership in economic development is key. I have functioned in the department with strong leadership and without it, and I can tell you that Belleville can only reach its
potential when the Mayor and Council understand that nothing good happens without the success of our business community.
Mayor Ellis is a shining example of that understanding and he has moved this City forward in a way that has, and will benefit the Councils of the future.
Karen, on International Women's Day 2023, we are all proud to crown you with the title of WOMAN OF DISTINCTION in our community.
Thank you for teaching us by example that when women's aspirations collide with gender stereotypes, we do not abandon our high standards of performance. Instead, we must choose to bring to the task our talent, fine qualifications, and our desire to serve our community with a positive, generous spirit.