Chamber News
Stay informed and discover the latest happenings in Belleville, Ontario with the Belleville Chamber of Commerce News.
POSTED |
February 11, 2019
Cornerstone Founder 2019 - Guenther Huettlin
GUENTHER HUETTLIN, GH Manufacturing
CORNERSTONE - FOUNDER 2019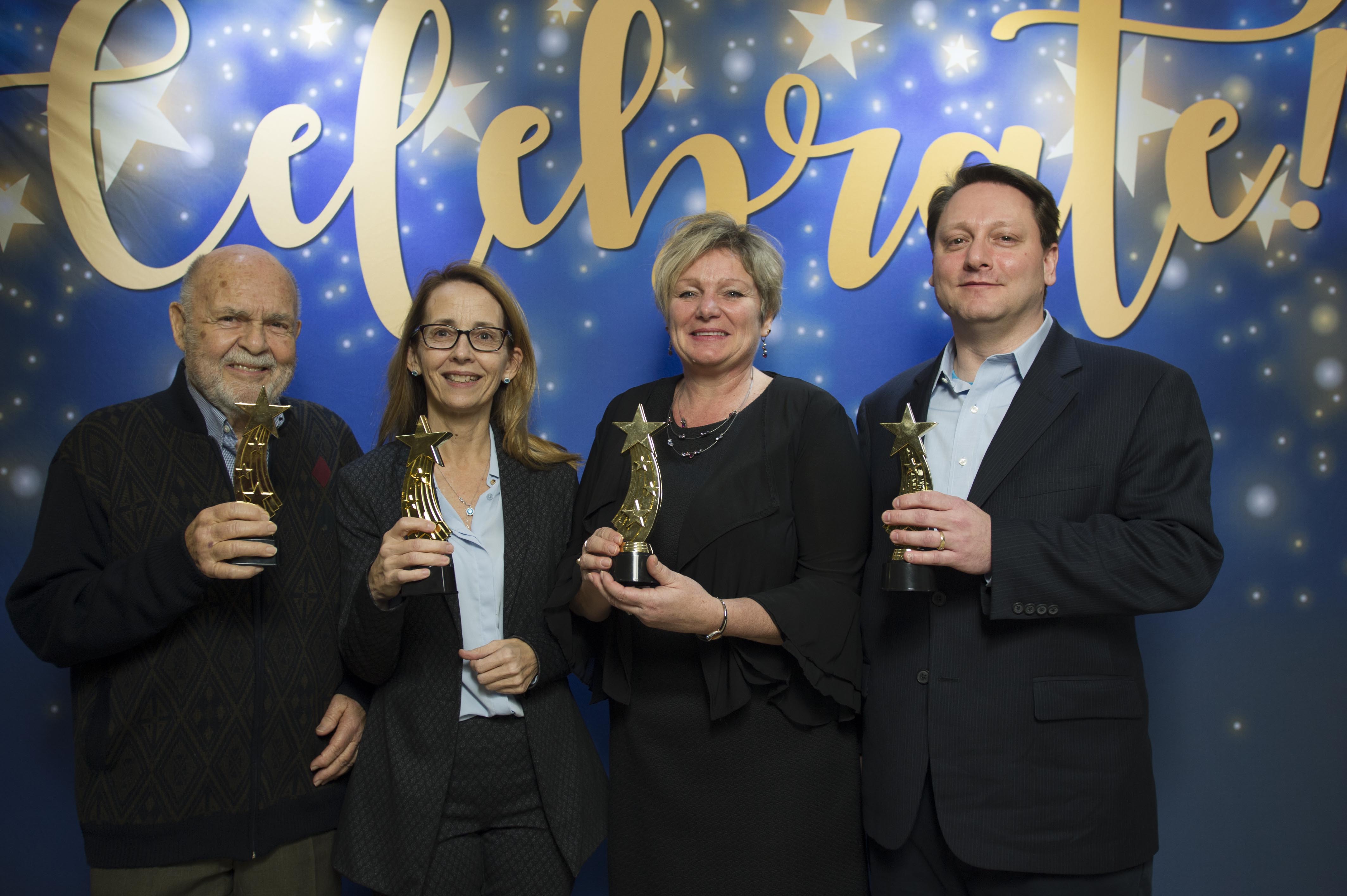 Guenther Huettlin & Kim Egan, GH Manufacturing with Tammy Empey & Joe Folk, Procter & Gamble.
The story....
Guenther first came to Canada to visit Procter & Gamble in 1985 from a town close to Munich, Germany. That was the year P&G changed the Pamper diaper packaging from boxes to bags.
With his and his partners experience he could solve the many problems coming with the change to bags and supplied the first Pamper Diaper Bags for Canada from Germany.
Soon he found out that P&G was not happy with getting all the bags from Germany and he convinced his German partners to build a plant across the street from his Customer, Procter & Gamble in Belleville. This plant started making all Pamper bags from 1987 until 1993. 100% from the Canadian Pamper diaper packaging was supplied from this plant. During this time, Guenther was involved together with his German partners in building a large rotogravure printing and converting plant in Cape Girardeau, Missouri. In 1993 P&G decided to shift the Pamper diaper production from Belleville to the United States and the bags should be produced in the new plant in Cape Girardeau.
After this decision Guenther's German partners wanted to close the Belleville converting plant but he did not agree and wanted to secure the jobs for the 35 employees in Belleville. He decided to make a management buyout and invested in a high tech German flexo printing press – investing Cdn$ 4.5 million. To find a home for the printing press and converting machines he purchased a building from Bristol Myers in the NE Industrial Park in Belleville. He renewed it in total and started GH International Packaging. The company found many customers in the United States and South America. Soon after GH was qualified as a supplier to P&G Belleville for Always Feminine Hygiene packaging. The second printing press was ordered and installed. In 1998 his former partners were highly interested to purchase the high-tech printing and packaging plant with approximately 80 employees.
Guenther decided to sell his plant thinking that he worked enough in his life and retired – not for very long. After 4 weeks of boating and fishing he found his life very boring and decided to start a new company. His plan was to do this with one of his best friends from Germany and a partner of his former group. A new building was purchased and the partnership was formed in February 1999. His friend travelled back to Germany and passed away 10 days later at 58 years of age.
With the loss of his partner, he decided to continue with the new company. GH Manufacturing Inc. started as a strategic contract packager for Procter & Gamble. The first commercial production, an Always Feminine Hygiene Multipack rolled off a semi-automatic packing line in September 2000. What was following was a typical entrepreneur's story. One project was completed after another, 40,000 square feet building was added. In 2005, the first polyethylene drawstring bag converting production was started, forming a new converting department. Between 2011 and 2014 Guenther invested over $2 million in 3 high speed converting lines creating another 10 full time jobs and was back in the Always Bag business with P&G.
Nineteen years after founding GH Manufacturing there are today approximately 100 employees. Depending on the business needs they have increased their team as high as 260. Employees are family and safety and retaining team members are top priorities.
On one hand, creating a "mommy shift" to accommodate mothers who wanted to work but needed to be home when their kids were – the 9-3 shift has become not just popular, but one of the their most productive group of workers. On the other hand they hire as many post-secondary students as the business allows each summer and have rescued employees from the avarice of payday lenders.
The desire to support his employees and the community also fuels Guenther's long-time commitment to the United Way. Over the years, GH Manufacturing & their staff have raised in excess of $275,000 for the local United Way. Guenther recognizes the enormous support that P&G has provided over the 19 years and their exemplary leadership with the GH team members and the local United Way.
We had a conversation about luck. In Guenther's mind as an entrepreneur you have to take risk, invest money and a lot of time but without luck at the end it is not working out. Guenther is obviously grateful to have had good luck in his life.
In his words today, work is his hobby. He cannot imagine to live retired without the work and the challenges from his company. Ultimately, the target isn't about the money but the feeling of achievement when you've completed something successfully – each job/contract sets another goal, each shipment out is another accomplishment. As for being an entrepreneur, you either are one or you're not and when it comes to finally stopping work, he's waiting for the man upstairs to let him know when he is done.
In the words of Kim Egan, who has worked with Gunther since 1996, in discussing her motives for nominating him to the award - One of Guenther's greatest gifts is his ability to listen, learn and adapt throughout his life. He has always been a single fighter and not afraid of the future. He has survived adversity, challenges and embraced change through a strong, and positive leadership. His humility, strength and generosity have made him successful and have allowed him to make an impact on many lives in our community.