Chamber News
Stay informed and discover the latest happenings in Belleville, Ontario with the Belleville Chamber of Commerce News.
Cornerstone Citizenship 2019 - Dennis McCullough
The Cornerstone Awards were created to help acknowledge and celebrate the people behind the businesses that are part of the Chamber, believe in the Chamber network and embody the spirit in which people decide to take on the challenge of owning or running their own business or take an active role in the business' ultimate success. The CITIZENSHIP award is presented to a Chamber member who has embraced the spirit of the community by their selfless acts and support to causes that improve the lives of Belleville's citizens.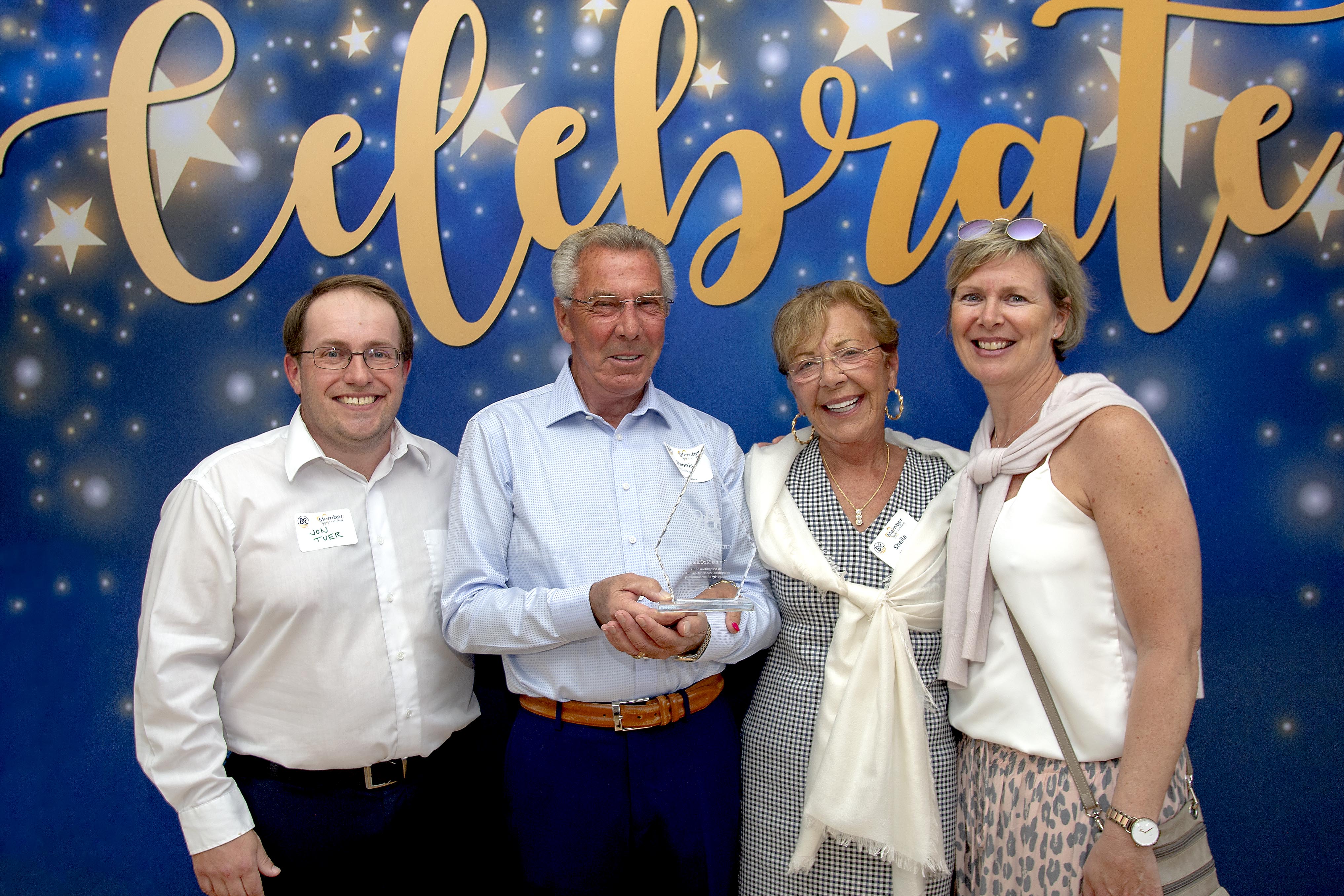 Kristin Crowe, recipient of the Cornerstone Citizenship Award in 2018, - along with Belleville Chamber President, Jon Tuer - presented Dennis & Sheila with his award at the 2nd Annual Member Appreciation Mingle on August 14, 2019.
Our recipient for the 2019 Chamber of Commerce Cornerstone award for Citizenship is Dennis McCullough. Dennis' official career began in 1963 – though he attributes his work ethic and drive to being the youngest of 13 children and the words of A.J. Billes in 1970 that suggested he'd found his calling in retail garage and sporting goods and "should become a dealer".
He started working at Canadian Tire #195 in Kingston in 1963 the same year he married Sheila and after 10 years, struck out on his own with a loan, made a tidy profit and moved back to the Canadian Tire world in 1976 and got his first franchise in 1979. The family – along with Todd, Jason & Shelley - came to Belleville in 1994 – where he has been the past 25 years.
In his time here and in addition to the Chamber since 1995, Dennis has been involved with the Men's Sales and Ad, Home Builder's Association, and Rotary. He also made it very clear, this is also about his wife of 56 years, Sheila. He and Sheila were Angels for the Children's Foundation but that is simply an indicator of how many other organizations they've helped along the way… in addition to supporting cancer research, Alzheimer's, Heart and Stroke, Parkinson's, The brain injury association and Pedal for Hope which is an organization that supports kids with cancer. For the last 5 years, every year they have contributed 30 bikes and helmets to the children involved. Pedal for Hope is organized by our local police forces along with the OPP.
Children are often the benefactors of their giving and the list is long. Although the support covers all sports for boys and girls, through the Canadian Tire Jump Start program, the Belleville store has achieved national recognition as the highest fundraiser for this program in the country – they also help support Camp for Kids which is a free camp for children with cancer or in one special case, they donated 5% of sales for one day to support a family whose child was battling cancer.
They also support the local Police Force. They contributed, along with a couple local businesses (Mark Hanley & Ross McDougall are part of that group) to purchase The Ride Van, motorcycles and software for the police cruisers and then there are the donations to their church and healthcare.
In Dennis' words – "throughout the years I have been a dealer, there have been good times and hard times. I have always strived to live with honesty and integrity. This, in my belief, helps you achieve any goal. I find it difficult to go back and think we should have made any different decisions. We are happy with our lives as it has progressed to today. We have always tried to become part of any community in which we lived. We have found when you give of yourself, you are always rewarded. With continual support of my wife working beside me, life is good. We also have tried to always treat staff with respect, dignity and fairness, trying to instill in them, the thought that we are all spokes in one huge wheel, working together to acquire the best results, and that they are our most valuable asset."
In the words of his staff - to know Dennis and Sheila is to know they love what they do and are passionate about creating a culture within that makes the store feel different. There's either first class or no class… you do it right or don't do it at all and the culture he's created is all about the people. We're not in the tire business, the sporting goods business but in the business of people. That is Dennis and Sheila – you get guys who are all numbers and part of the machine – but how you get to the bottom line is with people, and that's why our store is #1 in the country out of 500 for customer service because Dennis believes it's about making his staff the priority, who in turn, make the customer #1.