Chamber News
Stay informed and discover the latest happenings in Belleville, Ontario with the Belleville Chamber of Commerce News.
Children's Safety Village to get a new home.
Mayor Mitch Panciuk on behalf of the Corporation of the City of Belleville and Board Chair Matt Howell on behalf of the Children's Safety Village signed a Memorandum of Understanding (MOU) this morning regarding the development of a portion of the former Hillcrest Public School site at 88 West St.
The Children's Safety Village plans to develop a portion of the site into an education centre and miniature village to be used for the purposes of education on road, rail and fire safety, similar to the operation at their former Belleville Police Service headquarters location on Dundas Street East. Under the MOU, the City will lease the lands to the Children's Safety Village at a nominal cost, subject to final approval by Council.
The MOU outlines mutual goals, timing of the project, the site and building proposal, lease and development of the land, costs and procurement responsibilities of both parties.
Under the agreement, the City of Belleville's responsibilities include conducting required studies, grading of the site, provision of services (roads and sidewalks, sanitary and storm water servicing, hydro and natural gas), providing a shared gravel parking lot and pathway connection to Hillcrest Park, and installing separation fencing at the south and west boundaries of the lands.
The Children's Safety Village's responsibilities outlined in the MOU include securing funding, obtaining required permits, approvals and insurance, as well as covering costs of construction, operation and maintenance of all buildings, facilities and other works related to the project.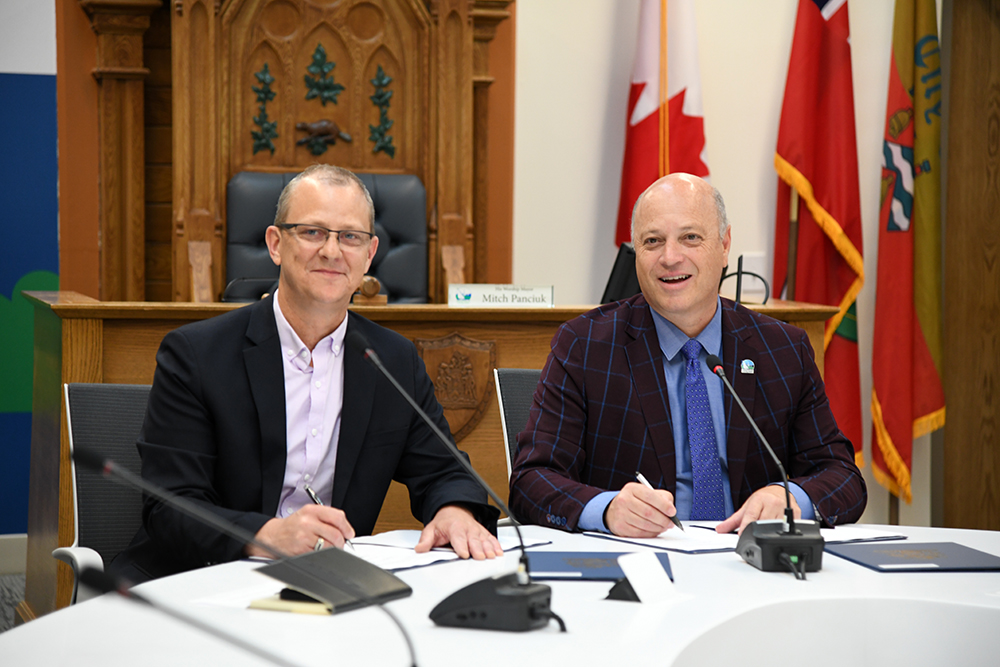 "This agreement is a huge step forward for this important community project," said Mayor Mitch Panciuk. "The Children's Safety Village has been a pillar in our community since its establishment in 2004 at the former Belleville Police Service location on Dundas Street East. It provides our children with the necessary skills and knowledge to help keep them safe in this ever-changing world. As we continue our work to develop Hillcrest Park into a community hub for residents, we are eager to add this fantastic facility into the mix. We look forward to working closely with the board and moving ahead with construction as soon as possible."
"Twenty years ago, people like Deputy Police Chief Brian Harder and Jake Nelson of the Quinte Home Builders had the vision to see the need for a Safety Village and the drive to make that vision a reality," said Children's Safety Village Board Chair Matt Howell. "We are thrilled that the current Mayor and Council share that vision and are willing to make this commitment to keeping this critical tool for helping keep our children safe alive and vibrant. While the Children's Safety Village receives no government funding for operations we have always appreciated the strong support our city has given us."