Chamber News
Stay informed and discover the latest happenings in Belleville, Ontario with the Belleville Chamber of Commerce News.
Belleville Chamber awarded accreditation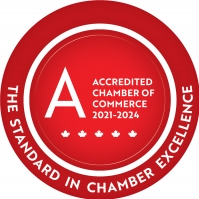 Chambers of Commerce Awarded Accreditation
At the June 2021 meeting of the Chamber of Commerce Accreditation Council of Canada, the Council was pleased to be able to recognize chambers from across the country achieving or maintaining their accreditation.
Developed in 2004 by a team of chamber executives, in conjunction with provincial and territorial chambers and the Canadian Chamber of Commerce, the accreditation program is operated by an arms-length organization called the Chamber Accreditation Council of Canada (CACC). The CACC is composed of Chamber representatives from across the country. The Council meets twice per year to review applications for accreditation.
To achieve accreditation, a chamber must meet minimum standards in critical areas pivotal to a Chamber's success, including organization/governance, policy and advocacy and membership programs/services.
"Accreditation is the acknowledgment that member chambers have been successfully evaluated against a rigorous set of national standards and have demonstrated excellence in Chamber management," said Sheri Somerville, President of the Chamber Accreditation Council of Canada.
"We are proud to recognize these chambers as examples of leading organizations making a difference in communities across the country – keeping 'the voice of business' loud and strong" said Perrin Beatty, President and CEO of the Canadian Chamber of Commerce.
There are 60 accredited chambers in Canada. At the June 2021 meeting, Belleville Chamber of Commerce was the only chamber receiving its initial accreditation. There were 25 chambers of commerce that received their reaccreditation for a further three-year period.