Chamber News
Stay informed and discover the latest happenings in Belleville, Ontario with the Belleville Chamber of Commerce News.
2023 Cornerstone FOUNDER Award presented to BILL WHITE and BARRY BROWN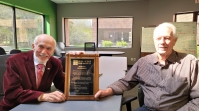 If the only project Bel-Con had ever done was the rebuild of Belleville City Hall, Barry Brown and Bill White would be deserving of recognition; the reality they've been responsible for dozens of other iconic projects in the region, is why they have been named the Cornerstone Founder award recipients for 2023. The Founder award acknowledges a business founded or grown by the recipient(s) that has had a significant impact for and/or beyond Belleville.
Bel-Con celebrates their 50th anniversary this year, founded in 1973 and acknowledges a tribute to Tom Gunsinger and Michelle Stephens, who bought the business in 2006. They have continued with the values of promoting an internal corporate culture of integrity, teamwork, efficiency & effectiveness instilled by Barry and Bill from the beginning.
While neither man hails from Belleville originally, they've made it their home and both have left their marks on the community, professionally and philanthropically.
Barry emerged from northeastern Quebec to high school in Quebec City, where he got into the construction industry in his teens and then on to Montreal. After travelling the country on numerous jobs and gaining experience in all stages of construction, he eventually made a move to Trenton – "I didn't even know where it was. I had to find it on a map."
He worked on several projects in the area before settling down here – "Having kids made travelling not really doable anymore" – and then joined with the divisional manager of that company to launch Cornerstone Builders.
For his part, Bill graduated with a degree in architectural technology from Ryerson Polytechnic in Toronto before working on conventional construction projects across Ontario. In 1966, he married his wife, Patricia, who put him through Queen's University for engineering.
He still says Patricia is "exceptionally important" to him; the couple celebrated their 57th wedding anniversary May 7.
During his time at Queen's, Bill spent a summer working with Smith Building Systems where he was introduced to the Butler system of building products; pre-fabricated pieces you put together that maximize efficiency and cost. "When I graduated, I was lucky there was an opening at Cornerstone which was where I met Barry. We worked well together and went from there."
Barry and his partner found themselves facing the choice of growing the business in the area of development or design, and that's when he made the decision to leave Cornerstone and join forces with a "very enthusiastic engineer from Queens University" to form Bel-Con.
"We worked very well together at Cornerstone so we decided maybe we should start on a business again," Barry said of teaming with Bill. "And that was the beginning of Bel-Con."
Where Barry and Bill particularly hit it off was in their attraction to the design-build business model as opposed to the conventional tender model. "I loved that concept where you design things and build them … where you have products that are predesigned, extremely efficient, cost effective," he said "It was just a model that I really liked".
Barry noted he started his career working for "clear cut" construction companies but after a few years he was getting "really frustrated" by that model and was looking for something that would provide "more freedom."
He found he "quite enjoyed" design-builds, which "gave us more freedom to bring more efficiencies into the program." The fascination with Butler system continued and after being awarded the contract to build the 80,000 square foot Bata building, they were also awarded the franchise for Butler. And they used this to build the largest Butler building in Canada.
As the two explain it, traditional tender builds – also known as bid-builds – involves the customer, who hires the architects and engineers, who then create the project, which goes out to tender for quotes and the builder is locked into what they had bid on.
And this is where everything becomes about meeting the bid price amidst market fluctuations.
"Ninety-nine times out of 100, the bidder who gets the project does so with the lowest price," Barry said. "It has absolutely nothing whatsoever to do with quality, it has nothing to do with schedule, it's got nothing to do with anything but to meet the low price". They noted the whole process becomes very adversarial and by the end of many long term and complicated projects there are more lawyers involved than there are construction workers.
In the design-build, however, the client defines the budget and then picks the company that will both design and build the project, with the design-build company deciding the best method and way to complete the project within the parameters of time and budget.
"I much preferred that method because it gave us more freedom to deliver a better product to our client," Barry said. "Our philosophy was that we not only honour the terms of an agreement legally but morally as well."
"When you are pricing a building that has been predesigned, it's whoever goes out and buys a brick at the lowest price," Bill added. "With design-build, if a brick wasn't the best choice in the first place, you had the flexibility to choose."
"It's not that the (bid-build) is a bad model, it's what the professions are based on, but there can be exceptions to that. And when Barry and I talk about design-build we are talking buildings that fit into that category, the exceptions."
The two men quickly learned their partnership went beyond their preference for design-build and how their various skills complemented each other. Bill designed the buildings, Barry built them.
"Gerry Boyce wrote 'Bill White was a dreamer, but a practical one,'" Bill recalled. "But in a lot of ways, I really needed guardrails. Barry provided those guardrails. It was a part of our relationship that really worked."
Among the projects where those abilities came together were the Best Western Hotel, the former Police Building, the Walter Baker Centre at Albert College, the Harbour Club, the Morton Building, Loyalist Market, the Bata Building and a host of industrial and commercial buildings across the region.
And of course, Belleville City Hall.
The redesign of City Hall in 1988 – a project that doubled the number of floors in the building while protecting its heritage elements – has earned awards and accolades over the years, including a Landmark Designation Award from the Ontario Association of Architects. It was just the 22nd building to receive the award.
Barry recalls how the city had put out proposals to present ideas of what could be done as the building had reached the end of its useful life and it was either going to be torn down or have a large addition put on it.
"But Bill got involved in it," Barry said, "Quinte frankly without Bill's expertise, we might have a concrete block and aluminum and glass building down there that I think would be disastrous for the City of Belleville."
Bill's vision grew out of his discovery of a 10-foot void in the ceiling amid the 12-foot timber trusses. He created a plan to turn the former two-storey building into four storeys – all without disturbing the heritage nature.
That involved (among other things) reworking the trusses to add the additional two stories without touching the exterior of the building and all the truss reinforcing and work on the beams had to be done from inside the building.
"Barry didn't get the credit he should have; this thing was exceptionally challenging and difficult," Bill noted. "Here were these big 12-foot trusses and they had to be modified. We had to rework two floors and we were going to do all that and not have them crashing down on our heads."
Bill explained how Barry's contributions to the project have been grossly overlooked and understated, noting the idea of adding two floors is one thing, but making it happen is something else.
"Furthermore, I made it more difficult because the original budget was really minuscule. I knew how much a budget city hall had for doing anything and I was trying to stay within that budget. This put a huge amount of pressure on Barry because that was a very tight budget. And Barry got it done."
"I mean we had a few things. Like the mayor's chair wouldn't fit on the fourth floor so we put in another skylight. But basically, it was Barry doing all that. It could only be done with his ingenuity and the people that he hired."
In 2006, Barry and Bill turned control of their company over to long-time employees Tom Gunsinger and Michelle Stephens. They handed over a history of success, values and high ideals, which Bill credits with the way they built the business and how they always led it.
But the projects are secondary to the trust and integrity they built as community partners and it's the people they've become through ensuring these values were a part of each of those projects that means the most.